I've just spent the last few days travelling around western Scotland, with the furthest point I visited being the Scottish island of Islay.
Islay is probably most famous as a whisky powerhouse; it is currently home to eight active distilleries, the products of which have a peaty kick that can warm the coldest of palates (I'm quite a fan).
Like most of Scotland, Islay has been strongly shaped by the last ice age – indeed, the channel that separates it from the mainland was carved by a glacier. In many places the bedrock is covered by a thick layer of glacial till, a poorly sorted mixture of 'rock flour' produced by the grinding action of moving ice, and larger pieces of rock carried within the glacier itself, all deposited and jumbled together as the ice sheets melted 10-20,000 years ago.
It's quite interesting to look at these recent deposits and compare them to the much, much older glacial units that I've been studying in Oman (image below). At least at an outcrop scale, they do look pretty similar, even if the Omani diamictites were probably deposited in a marine environment rather than a terrestrial one. "The present is the key to the past", indeed.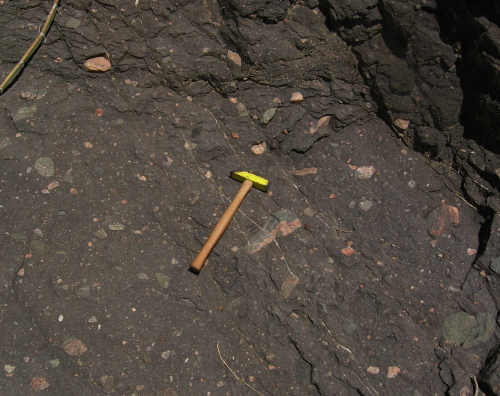 However, it turns out that Islay has an even more direct link with the glacial deposits of Oman. As the road rises up from the ferry terminal at Port Askaig, you drive past an impressive roadcut.
The unit exposed here, and along the coast to north of the Ferry Terminal, is the Port Askaig Formation. This is admittedly not the most whimsical of names, but the formation itself is actually rather intriguing, because it is also a diamictite – a poorly sorted sediment with large clasts of granite and other rocks embedded in a fine-grained, silty matrix.
The Port Askaig Formation is quite poorly dated, but dating of the granitic basement that it rests on, and some overlying volcanic formations, tell us that it is somewhere between 600 and 800 million years old. So, the late Neoproterozoic in Scotland was a time of cold and glaciers – just like in Oman. In fact, the Port Askaig and its correlative units in other parts of Scotland and Ireland were possibly the first evidence of Neoproterozoic glaciations to be recognised. If the Snowball Earth theory can be said to have had a birthplace, it could well be here.
Cool geology, with a whisky to finish: what more could you ask for from a holiday?