Both of the earthquakes in the news this week occurred at convergent plate boundaries, and in that sense their focal mechanisms (Samoa, Indonesia) are not quite what you'd predict: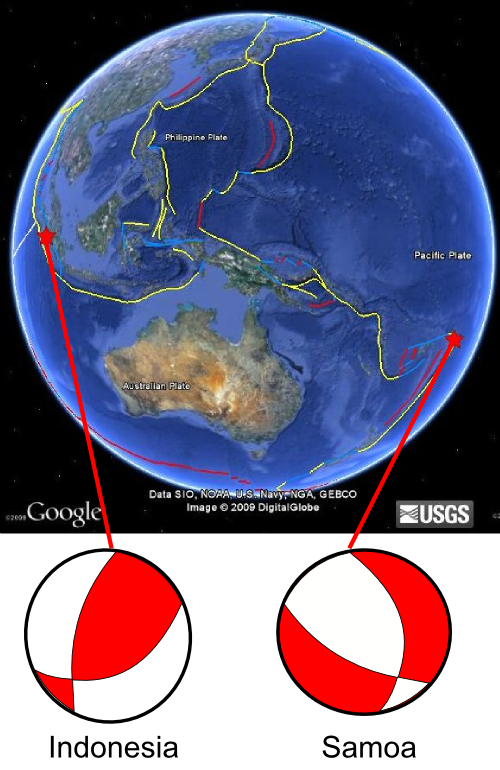 What we see
If these two earthquakes were caused by a rupture of the main subduction thrust, you'd expect to see compressional focal mechanisms with the focal planes running parallel to the trend of the subduction zone, as below.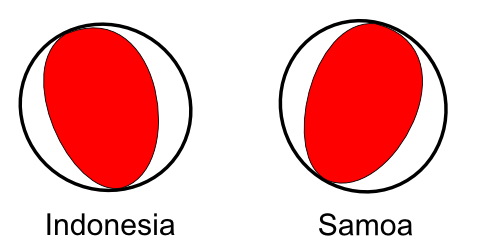 What we might expect
Instead, the Indonesian earthquake is the result of compression perpendicular to the expected direction, and the Samoan quake is accommodating extension on a normal fault, and not compression at all. So what's going on?
The Samoan earthquake is actually quite easy to explain once you zoom in and note that it is located on a fault in the Pacific plate before it enters the subduction zone and is thrust westward underneath the Australian plate.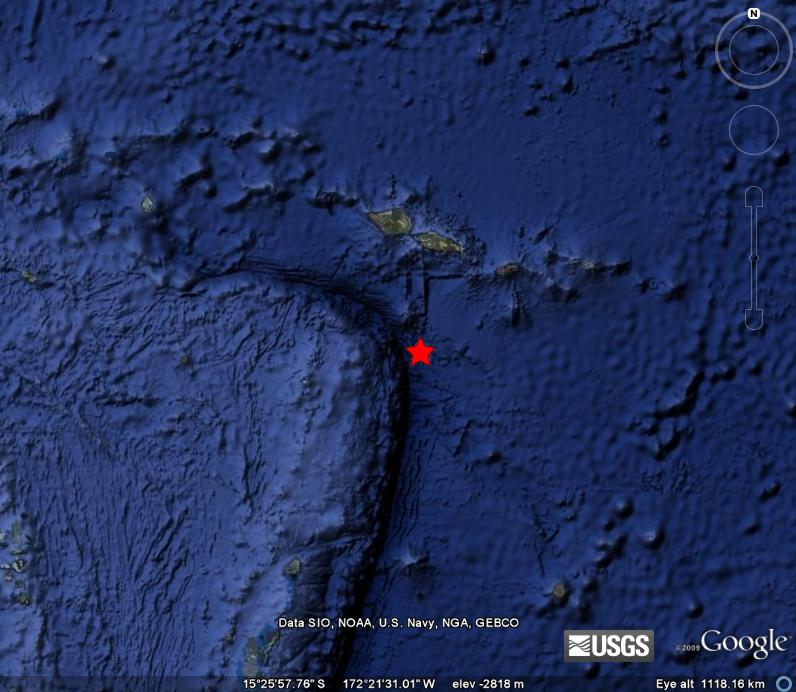 This suggests that it is a response to bending of the Pacific plate as it sinks into the mantle.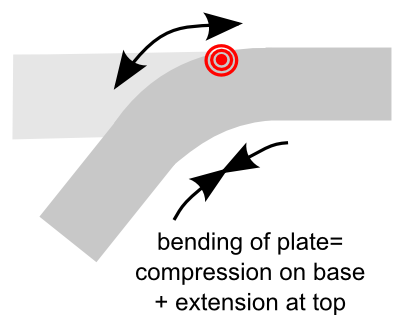 The Indonesian earthquake is less easy to explain: the rupture has been located at a depth of around 80 km, which puts it within the subducting Australian plate rather than at the subduction boundary itself. It also looks very similar to a quake which occured several hundred kilometres to the southwest at the beginning of September. Some force is squashing the plate at an angle perpendicular to the direction of plate convergence, but I've no real idea what the source is.
So, although both of these earthquakes occurred at a subduction zone, neither of them actually occurred on the main thrust. Another issue that has cropped up in the news is whether the Samoan earthquake on Tuesday caused the Indonesian earthquake on Wednesday. In a broad sense, the answer to that question is 'no'. Both earthquakes were releasing strain built up by tectonic forces in their particular part of the the world; strain on the fault that ruptured beneath Indonesia had probably been building for hundreds of years prior to Wednesday, and it would have ruptured anyway at some point. However, given that it must have been on the verge of rupturing, could the seismic energy from the Samoan quake have provided an extra push over the threshold? It's possible, but you can't really say for sure either way.