I've just returned from a few days visiting a friend in Northern Ireland. Whilst I was there, she very kindly drove me out to the north coast to visit the Giant's Causeway (whilst getting considerable comic mileage out of accusations that I'd only condescended to visit her because she'd ended up living near some interesting rocks).
Unfortunately, the weather was rather uncooperative, and whilst torrential rain and strong winds might not have been enough to discourage me from a couple of hours poking at columnar basalts, it would have been beyond unfair to force such conditions on my companion. We briefly stopped at a small harbour a little way down the coast in where you can see some of the same basaltic lava flows, erupted during the opening of the North Atlantic about 60 million years ago, but instead of nice regular columns there's a much more irregular jumble, probably thanks to the interaction of water with the cooling lava (as I've discussed before).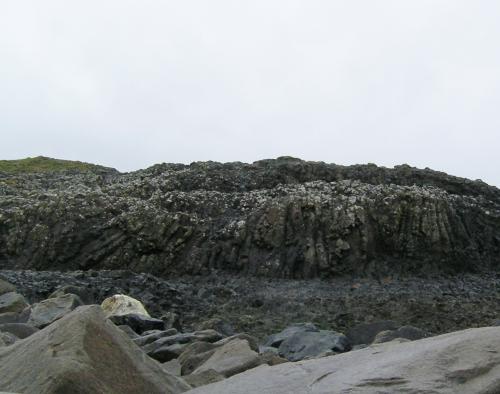 Fortunately, since the Bushmill's Distillery is just down the road, the excursion was not entirely without its delights. And all this really means is that I'll have to revisit Northern Ireland… to see my friend again, of course!
Has anyone else driven past cool geological sites without getting to see them?