We all know of places we love because we can look out on a wonderful view. But what makes a view special? Sometimes views make great photos – they have combinations of colours, textures and composition that really work. Really great views have something that can't be captured in a flat image – they have a sense of place, of space, that makes them an experience. The way they make you feel makes you want to come back again and again.
I grew up with a great view. My parents' house sits on an ordinary road that just happens to sit a few hundred feet above the Cheshire Plain. From the top floor, the view is far from spectacular –  even a skilled photographer would struggle to turn it into a pleasing image (let alone me). But on a normal day you can see across most of Cheshire and Greater Manchester – an area that over 3 million people call home. All of this – the first ever railway line, the lab where Rutherford first split the atom – is below you. If there are clouds (there are always clouds) patches of sunlight pick out different slices of the foreshortened landscape. At night the city glows and flashing sparks descend into Manchester airport. It is endlessly fascinating.
I now live in the south east of England and there is something missing from the views. The scenery is pleasant, but to my eye, something is missing. What?
Maybe it's height. I've yet to meet an English 4 year old, who, when climbing on top of a slide or climbing frame doesn't chant "I'm the King of the Castle". Corporate warriors fight for a corner office in a tall building; a good view over the faceless throngs below is a sign of status. When I look down over Manchester, am I just a cat on a fridge, looking down on everybody else?
I used to think so, until I went on holiday in Suffolk, a part of the country that is unusually flat. Suffolk has awesome views, precisely because of the lack of height. There is a tremendous sense of space – "big skies". All it takes is to be 30 foot above sea level and you can see a long long way. The nuclear power stations at Sizewell are a big visual presence, even when they are so far away that the pressurised container of Sizewell B is like a golfball on the horizon. So its not height that makes for a great view, it the sense of space that comes from seeing a long distance.
Confirmation of this came from a trip to Everest Base Camp. This is a landscape turned up to 11. High rates of erosion and rapid uplift go hand in hand, meaning that landslides are a major influence on the shape of the land.  Day to day, trekking is within steep valleys and the views aren't that good. The mountains are always beautiful, but you can't see very far and there is no sense of scale. In the right places, the views are amazing, of course.
Take a look at this amazing time-lapse video from Everest.
I'm struck that the views that make me catch my breath are where you can see people in the landscape, like the lights moving up the Khumbu Icefall. Distance needs to be in context to have a real impact. We know the stars are vastly distant but this is hard to engage with emotionally. Realising a tiny dot on a vast ramp of ice is another human being suddenly makes the view come alive.
Also, that video contains not one shot of the summit of Everest. From Base Camp it is simply not visible. Views of Everest from the south are usually taken from one of two hills that let you peer over the intervening peaks.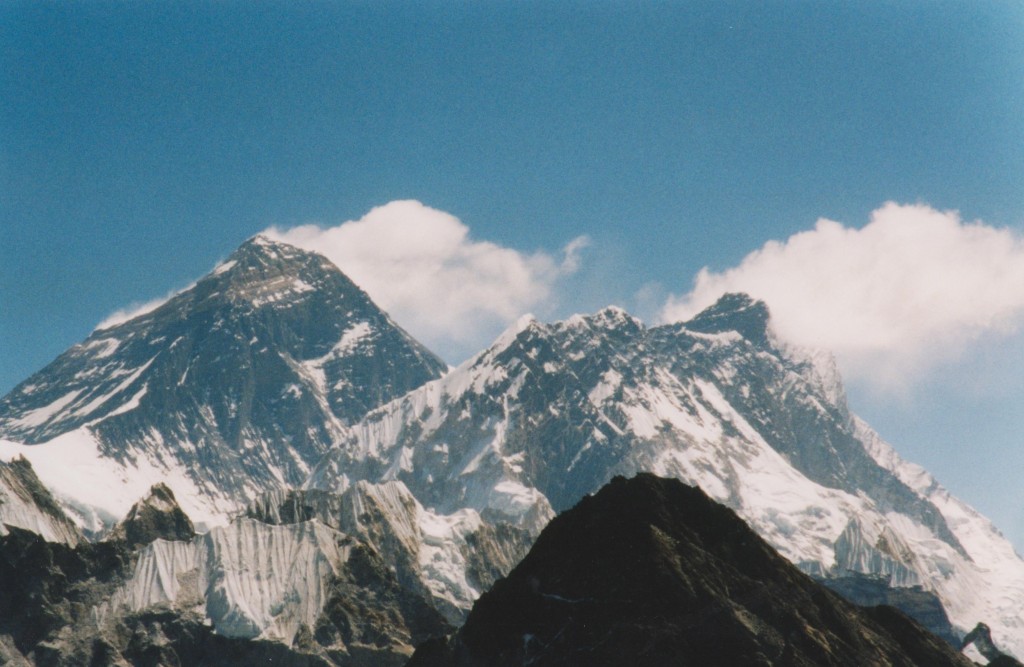 North of Everest is the relatively flat Tibetan Plateau, where erosion is lower and the crust isn't being squeezed out, like it is further south. Views of Everest from the north are much better – the foreground doesn't get in the way. Everest can be appreciated from a proper distance.
My craving for a sense of space colours my view of places. A great walking holiday in the American west took me to Yellowstone National Park. While loving the geysers and pools, I found my longing for a view into the distance thwarted by the flat topography and all those bloody trees. The Grand Tetons though? Oh my. From within the Park, the view west to the great craggy peaks was the immediate attraction, but I found myself drawn to look east, down the Cambrian dip slopes towards the flat land of Idaho. Who cares if all they do there is grow potatoes? It felt like I could see all the way to the Pacific. Some of the very finest places combine a sense of space that is both horizontal and vertical. Death Valley in California contains huge flat areas, giving all the sense of space that entails and is ringed by big mountains. Everywhere you look, up or along, there is great view.
Despite having seen soon truly massive views, I still love the view from my parents' house. This is all wrapped up with other associations and memories of course. The best experience was last New Year. Being a parent of young children is like living in different time  zone – you are always a couple of hours ahead of everybody else. Consequently, unable to stay awake, we bailed early from the pub and were back at my parents at midnight. It was a clear night and we soon realised that people have become very keen on the tradition of setting of fireworks at New Year. We got a fine view of about 10 sets of fireworks nearby, but what was really magical was being able to see fireworks across the whole of Manchester. The whole city was covered in a multi-coloured shimmering, constantly shifting, constantly mesmerising. Seeing the same thing both near and far gave a very precise sense of distance. Then we saw lights floating across the sky. They were moving fast, were they small and near or far and impossibly fast? We couldn't tell. Suddenly a floating paper lantern drifted over the garden, banishing drink-addled thoughts of UFOs.
I got to share all this with my 3 year old son, who happened to be awake. I know he remembers it now. I really hope the memory survives the tremendous changes his brain is going through. The sense of space, the sheer beauty of it – it would make an amazing first memory.