Last Monday night I found myself standing in the dark, on a frozen beach wearing a padded onesie and a furry hat. This is not how I usually spend my Monday nights, to say the least. It was in fact a tremendous, moving experience.
I was in Arctic Norway, near the city of Tromsø, with some friends. We were hoping to see the Northern Lights. When I say the beach was frozen, this isn't just a figure of speech, it was frozen, the upper part covered in snow, the lower a solid lump of ice. We were prepared for disappointment; the tour we'd booked on had found us a cloud-free patch of sky, but they couldn't do anything about the space weather. Luckily we'd already had a fabulous day.
That morning we'd got onto a perfectly ordinary bus, travelling to a village and back. The bus was ordinary, the trip wasn't. There was non-stop gorgeous scenery – very Scottish looking mountains with perfect glacial topography, all covered with snow.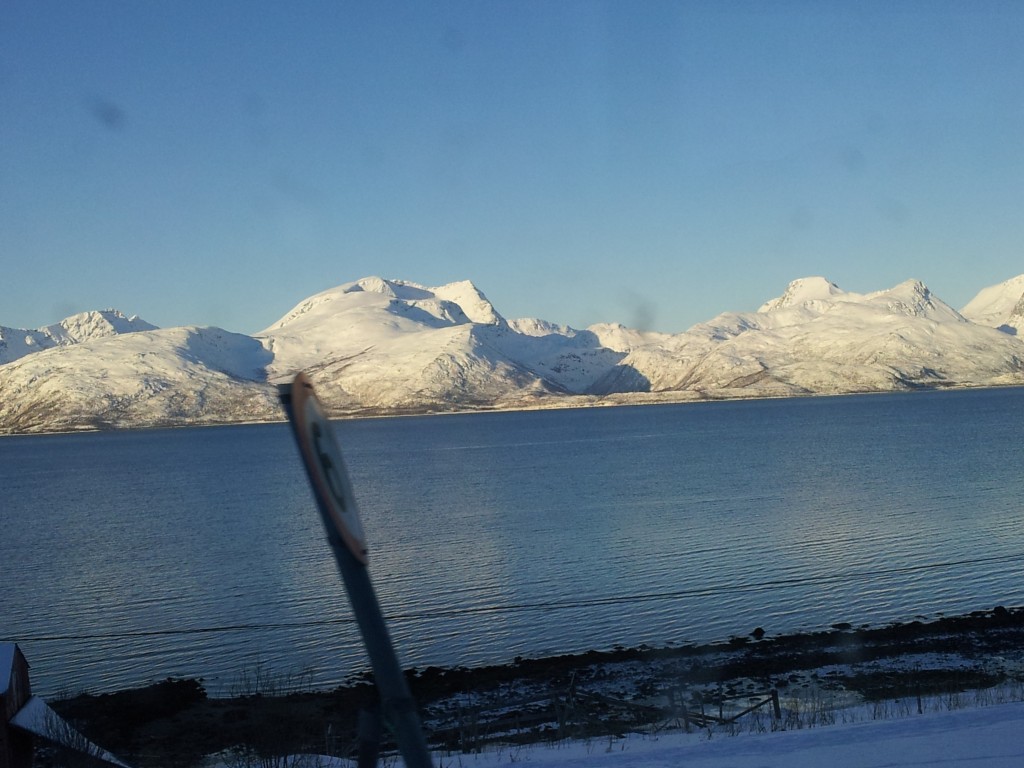 At the village of Oldervik we had 15 cold minutes before the bus took us back. To remind us we weren't really in Scotland there were drying fish heads and really big mountains – the Lyngen Alps.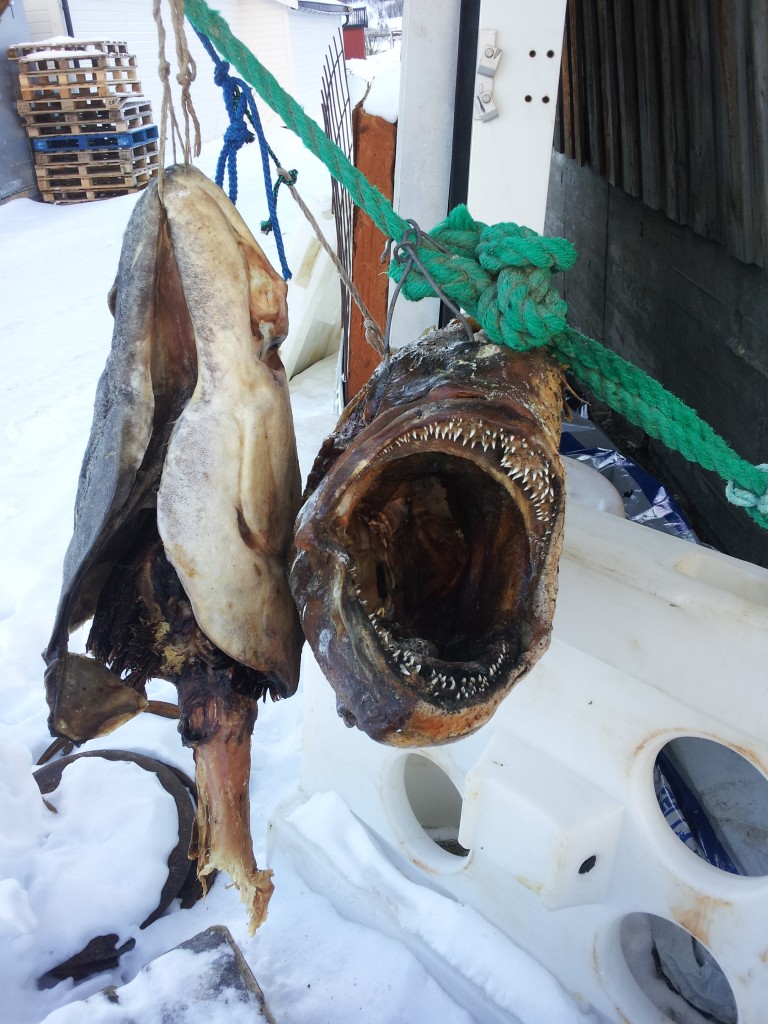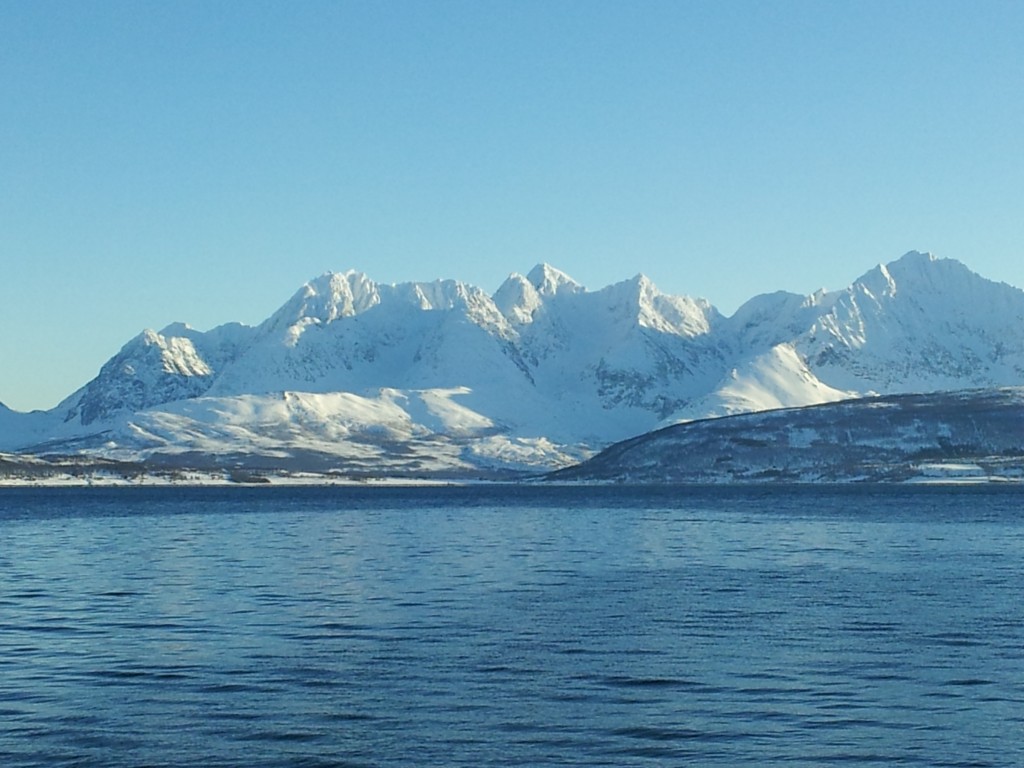 Our evening trip out to the beach was splendid as well. The moon was half out, meaning we could see a fine array of stars, but also the snow-covered mountains.
When it first came, the aurora was subtle – a faint mist only. For most of the time we saw it, it wasn't green. Or rather it was, but the light levels were so low that human  eyesight shows only grey. The pictures you see are taken with cameras on long exposure times.
Gradually the 'mist' became an arc across the sky directly above us. As our guide told us about 15 times, Tromsø is the perfect place to view the lights as they form directly overhead. The lights are formed by the interaction between the earth's magnetic field, the solar wind and the atmosphere. Electrons and ions are thrown out  by the sun and whizz towards the earth. They are then guided along magnetic field lines down into the earth's atmosphere. Here they bump into gas atoms (Oxygen or Nitrogen) causing them to emit photons – some of which in turn pass into my goggling eyes.
The aurora showed fine dramatic timing that night. We had had a nice display, but with little movement, when it started to fade away. Just as we were telling ourselves we'd had the best of it, it came back with a vengeance. First vertical lines appeared and then it started to 'dance'. At its most intense we saw green sheets drift and move like mist in a breeze. This was taking place all around us, above, behind, so that viewing it was a physical thing – it wasn't over there, it was here.
We all had a rather strange expression on our faces while this was going on – a sort of a grin with an open mouth. We were happy and smiling, but our jaws just kept on dropping. It was literally awesome.
We all need a bit of awe in our lives now and then, a little brush with the wider universe – I feel refreshed for my little dose. What I found most interesting was the way that my awe was enhanced by my understanding of the underlying science. Knowing that the lights were caused by processes that started in places we'll never reach – the sun and the core of the earth – simply added to my enjoyment.