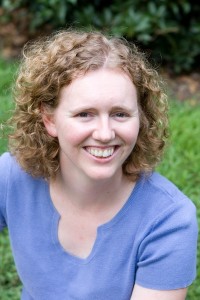 Anne Jefferson grew up on the Mississippi River in southeastern Minnesota and spent summers on Lake Superior. These two places imbued her with a love of water and the dynamic way it shapes landscapes. Anne has her undergraduate degree from Johns Hopkins University, an MS in Water Resources Science from the University of Minnesota, and a PhD in Geology from Oregon State University. Anne moved to Kent State University from UNC Charlotte, where she was on the faculty from 2007-2012. You can read more about Anne's background in her CV and you can learn more about her research and teaching by browsing this site. Contact Anne.
Students at Kent State University
Anne is recruiting students interested in pursuing a M.S. or Ph.D in Applied Geology who have research interests in urban hydrology, groundwater-stream interactions, or watershed hydrology. After perusing this site and the Department of Geology web pages, please contact Anne for more information.
Continuing Students at UNC Charlotte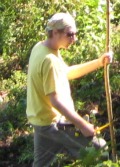 Colin Bell 
is a M.S. student in Civil Engineering and a Ph.D. student in Infrastructure and Environmental Systems at UNC Charlotte. Colin is co-advised by
Sara McMillan
and
Christina Tague
. Colin is modeling the cumulative effects of stormwater management strategies on urban stream hydrology and nutrient dynamics.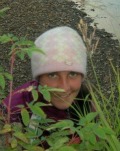 Mackenzie Osypian
is a M.S. student in Civil Engineering at UNC Charlotte. Mackenzie is co-advised by
Sandra Clinton
. Mackenzie's research focuses on understanding how stream restoration alters groundwater-stream interactions and transient storage.

Jason Shiflet is a Ph.D. candidate in Infrastructure and Environmental Systems at UNC Charlotte. Jason's research focuses on combining compound-specific stable isotope analyses of chlorinated solvents with 3-D fate and transport modeling and conventional hydrogeologic measurements to better discriminate between co-mingled chlorinated ethene plumes. Jason is the Director of Operations, Munitions Response Services and Environmental Compliance and Remediation Services at Zapata Engineering in Charlotte, North Carolina.
Alumni
Anne had four students complete M.S. degrees in Earth Sciences at UNC Charlotte.
Alea Tuttle completed her degree in summer 2012, and she now works for Wildlands Engineering.
Brandon Blue completed his degree in summer 2012 and is now job hunting in Florida and North Carolina.
Ralph McGee completed his degree in spring 2011, and he works for Hart and Hickman.
Cameron Moore completed his degree in spring 2011, he works for Apex Environmental.