Here are two more weeks of daily climate change impacts stories, as part of my #365climateimpacts project. I didn't have to go very far from home to find inspiration for this fornight of tweets. We had an incredibly unusual heat wave in the Midwest, and March came in like a lion with a 6 am tornado warning. Amidst all the heat, I did also sneak in some glaciers and polar bears and other climate change impacts. Read on for all of the stories…
February 16:
Documenting Glaciers in the Dying Days of Ice. This piece follows the National Park Service photographer charged with capturing images that show how much Glacier National Park's iconic glaciers have retreated in the last century. Click through to look at some incredible before and after photo pairs.
February 17:
River flows in New England are increasing & they're delivering more carbon to Gulf of Maine. That could have an effect on algae blooms, ecosystem productivity, and carbon sequestration in coastal waters.
February 18:
Extreme weather is increasing in a changing climate. Akron (Ohio) February temperatures average -2.4C. It's 18C outside.

February 19:
2017 spring in the South is 20 days earlier than the 1981-2010 average. That's astounding.
Spring (phenological) continues to advance northward via the "first leaf-out" & is nearly 20 days earlier than ave (https://t.co/ozjiwrM3KJ) pic.twitter.com/pcJHJlFXKa

— Zack Labe (@ZLabe) February 18, 2017
February 20:
Who's still fighting climate change? The US military. Sea level rise is the enemy.
February 21:
Do we have language that describes ways we feel about living in a changing climate? A great essay by Faith Kearns on a interesting initiative to coin words that describe the way we feel about our unusual climatic conditions. I think sorrowbliss begins to describe the ongoing February heatwave we're experiencing.
February 22:
Colorado River flows will keep shrinking as we warm through the 21st Century, even aside from the greater likelihood of drought. Warmer temperatures increase evaporation & plant water use, and that's drying out the Colorado River. Link above is to a pretty good summary of a new research paper out in Water Resources Research.
February 23:
Carbon dioxide keeps piling up in the atmosphere, including big bump in 2016 pic.twitter.com/zCdFtpZcZq

— Brian L Kahn (@blkahn) February 22, 2017
February 24:
Scarily warm. Andrew Freedman explains what's behind the February heatwave that is shattering records. A while ago, I thought: when I'm done talking about snow & atmospheric rivers for #365climateimpacts, I should talk about Australian heat, and I should, because it's a huge climate change impact. But then my kids' friends started wearing shorts to school. In February.
February 25:
This cartoon perfectly captures my sorrowbliss at the freakishly hot weather we've been having in February. Mad appreciation to the cartoonist, Sarah Andersen.
— Sarah Andersen (@SarahCAndersen) February 25, 2017
February 26:
Dr. Warren Washington is global climate modeler who won the National Medal of Science for his contributions to the field. He's one of many Black American scientists and engineers who have made contributions that we often fail to recognize and celebrate. Here's
one brief bio
, and
here's another
.
February 27 (Polar Bear Day):
Here's a great fact-filled 1 minute video about polar bears, those charismatic emblems of climate change. I know polar bears are the stereotypical mascots of climate change, but I've loved them since I was 4 & got to see them in Churchill, Canada. That's why they work as the most recognizable mascot of climate change, because so many people (like me) fell in love with them as children. My 2 year old's beloved teddy is a white bear. Wouldn't it be great if weren't extinct (or only in zoos) by the time he's my age?
It's #PolarBearDay! We're addressing three myths about the impact of #climatechange on polar bears with some cold facts: pic.twitter.com/yRAaCYw3u7

— Oregon Zoo (@OregonZoo) February 27, 2017
February 28:
As it warms, California will have more floods. Levees & dams not built for winter rains. They are built to store and contain spring snowmelt.
March 1:
Today I was awoken by a tornado warning. Incredibly unusual at this time of year in Ohio. Effects of February hot spell. (I've not heard of any confirmed tornado touchdowns today in NE Ohio, but to even have storms capable of tornadogenesis is super-unusual.)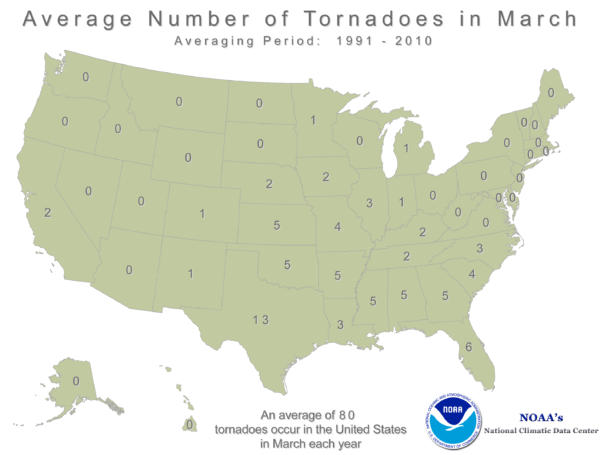 March 2:
The Gulf of Mexico didn't cool below 23 degrees Celsius this winter, for the first time ever. These warm temperatures may increase tornadoes in the US, but there doesn't seem to be a link with hurricanes (which are affected by summer water temperatures).