When Anne first started blogging on Highly Allochthonous, I introduced her first post with the words:
I let her post this on the condition that she not show me up by being clearly smarter and a better writer than I am.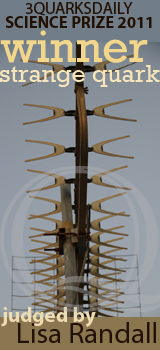 I was half joking, but It has been clear to me ever since that first post that Anne is a wonderful and intelligent writer, whose presence on this site has added immeasurably to its scope, relevance and credibility. I am therefore delighted to see the rest of the world properly recognising Anne's talents: her post "Levees and the Illusion of Flood Control" has taken 2nd place in the Three Quarks Daily Science Prize, or the Strange Quark' as it is known in those parts.
Anne's own words in her "Acceptance Speech" at 3QD are typically modest:
The 1993 Mississippi River floods were the event that made me become the scientist I am today, so I really wanted to do a creditable job explaining the perspectives and nuances of flood management. Based on the response to the piece, I must have done OK! But now I've set myself the goal of bringing that same quality of writing to more blog posts and my scientific papers, so I may be in trouble if they don't live up to the high praise that this post has gotten.
but I have no qualms in being smug on her behalf. Well done, Anne! Feel free to use the comments to tell her how awesome she is.
I'd also like to thank all of you who voted Anne's post through in the initial round of the contest, and particularly Evelyn for nominating it in the first place.