After some discussion, Anne and I are putting Highly Allochthonous on hiatus whilst we consider our future here on Scienceblogs.
This decision is not made lightly. But the events of the last 24 hours have forced us to consider whether we can continue to contribute here without damaging our public and professional credibility.
Seed Media run this space and can therefore invite whoever they want to contribute to it; but allowing the employees of a major multinational to blog, not in a personal capacity, but on behalf of that multinational, raises serious questions about impartiality and conflicts of interest that, as scientists, we find hard to ignore. However, regardless of how the current furore is resolved, it has merely added to our feeling that although we have both enjoyed, and benefited immensely from, our time here at Scienceblogs, the network is moving in a direction that we may not want to follow.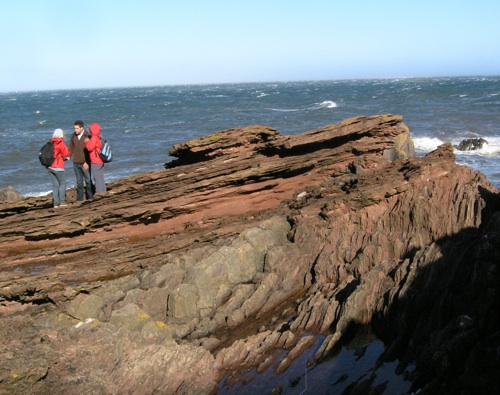 Hutton's Unconfomity, Siccar Point. Here, deposition began again after some time and upheaval…
No long-term decision has been made on future blogging, except there will be future blogging, at some place on the Internet. Hopefully you will join us again when we work out where that will be.