From this week, you get two link curators for the price of one; a combined list of the more interesting items from both of our Twitter feeds. Enjoy!
Earthquakes
Seismologists on trial triggers scientific debate [Mixing up scientific & legal arguments? This will be messy]
http://blogs.nature.com/news/thegreatbeyond/2010/07/_seismologists_on_trial_trigge.html
(via @NatureNews)
Italian seismologists: What should they have said? [Agree with conclusion, but comparison with climate science is just daft]
http://www.earthmagazine.org/earth/article/35b-7da-7-1
(via @RonsGeoPicks)
Many photos from Haiti after the earthquake (latest of 8 parts)
http://www.opednews.com/articles/Photo-Essay-Haiti-After-t-by-Mac-McKinney-100627-75.html
Volcanoes
Volcano porn [Including the best animated GIF ever – small version shown below]
http://blog.atmospheres.be/?p=2167 (H/T to Adventures in the world of Geology)
(via @Geoblogfeed)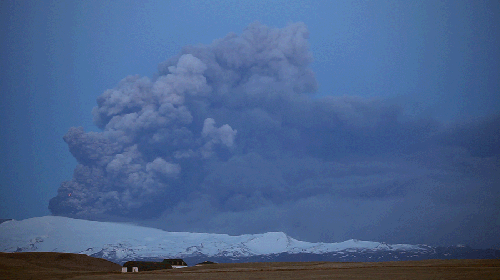 Source: Blog.atmospheres.de
Rift history & volcanism at continental margins [Ocean rifting is now known to be much more complex than when I was a student!]
http://noc.ac.uk/news/rift-history-and-volcanism-continental-margins
(via @NOCnews)
Gen. McChrystal a victim of Eyjafjallaj\u00f6kull? No flights->boozy layover in Berlin with Rolling Stone reporter.
http://abcnews.go.com/International/gen-stanley-mcchrystal-icelands-volcano/story?id=11016455&page=1
Fossils
Giant dinosaurs used planet to warm their eggs [hot spring incubators. Fascinating]
http://blogs.discovermagazine.com/notrocketscience/2010/06/29/giant-dinosaurs-used-the-planet-to-warm-their-eggs/
(by @edyong209)
Flores 'hobbits' weren't malformed humans [At least, not this month…]
http://www.newscientist.com/article/mg20627664.500-flores-hobbits-werent-malformed-humans.html
(via @rowanNS)
(Paleo)Climate
Long-term effectiveness of CO2 sequestration may be undermined by leakage http://www.physorg.com/news196856250.html
(via @physorg_com)
Man-made global warming started with ancient hunters [killed grazing mammoths, changed grassland->forest]
http://bit.ly/aaMfsH
(via @theAGU)
US scientist in race to learn from Indonesia's dying glacier ['could be gone in 4 or 5 years']
http://www.physorg.com/news197266012.html
(via @physorg_com)
Ellesmere Island fossil site sheds light on warming Arctic [High sensitivity to past changes in CO2]
http://www.vancouversun.com/technology/Ellesmere+Island+fossil+site+sheds+light+warming+Arctic/3210268/story.html
(via @geology4u)
(Anne blogged about a threat to this site a few months back. It seems the proposed coal mine was rejected. Huzzah!)
Environmental
UK progress on #climatechange is an illusion [emissions fallen due to recession, not +ve action]
http://www.channel4.com/news/articles/politics/domestic_politics/uk+progress+on+green+energy+an+aposillusionapos/3696182
(via @channel4news)
O Water, Water, Wherefore Art Thou Water? impact of climate change on freshwater resources.
http://profmandia.wordpress.com/2010/06/28/o-water-water-wherefore-art-thou-water/
(via @AGW_Prof)
RT @argillic: RT @yonatan_yahalom: Seattle Post Intelligencer: Arsenic water killing 1 in 5 exposed in Bangladesh
http://www.seattlepi.com/health/1500ap_as_med_bangladesh_drinking_arsenic.html
(via @argillic, @yonatan_yahalom)
Cutting up Australia. Sell off inefficient national parks: To protect plants, replace conservation parks
http://www.newscientist.com/article/dn19124-to-protect-plants-replace-conservation-parks.html
(via @rivrchik, @newscientist)
How Asian cities are built will determine the prospects for global carbon emissions http://www.economist.com/node/16481295?story_id=16481295
(via @TheEconomist)
General Geology
I gave it a good try, but now it's your turn: Where on (Google)Earth no. 208
http://lostgeologist.blogspot.com/2010/07/where-on-google-earth-nr-208.html
(via @clasticdetritus)
Loving the new NASA Earth Observatory layer in Google Earth:
http://earthobservatory.nasa.gov/Feeds/GoogleEarth/eo.kml?src=eoa-ann
Beautiful new high resolution geoid from #ESA Goce satellite. Didn't know N Atlantic was such a gravity high…
http://news.bbc.co.uk/1/hi/sci/tech/8767763.stm
Using sedimentation rates to infer long-term global climate change
http://clasticdetritus.com/2010/06/28/using-sedimentation-rates-to-infer-long-term-global-climate-change/
(by @clasticdetritus)
Do I detect the birth of a meme? 10 Overrated Places to see before you die! The geologic version:
http://geotripper.blogspot.com/2010/06/ten-overrated-places-to-see-before-you.html
(via @geotripper)
Greenland Oil Exploration [companies have to front up \u20ac8 billion/hole before drilling. Q a deposit!]
http://my.opera.com/nielsol/blog/greenland-oil-exploration
(by @olelog)
The direct or indirect resistance to biomineralization theories [bacteria involved in forming ores?]
http://sandbian.wordpress.com/2010/06/30/the-direct-or-indirect-resistance-to-biomineralization-theories/
This is brilliant. Play Deep Earth Bingo at your next meeting, conference, and/or colloquium!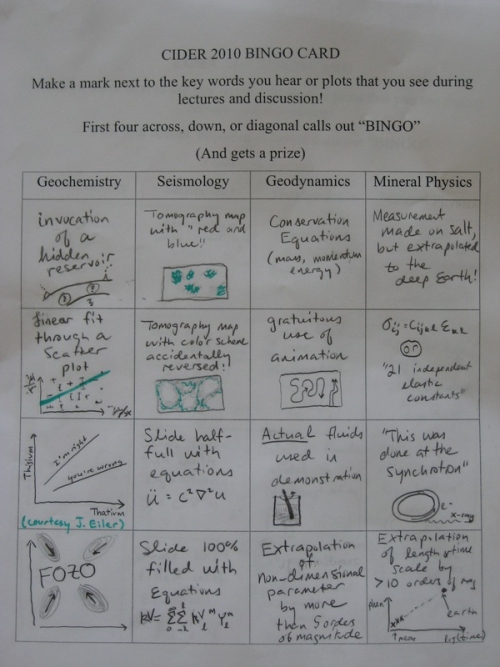 (via @mineralphys)
Interesting Miscellaney
Fiona Fox: He said/she said doesn't work in sci journalism
http://www.bbc.co.uk/journalism/blog/2010/06/he-says-she-says-just-doesnt-w.shtml
Read @ivanoransky's tips on avoiding it
http://blogs.discovermagazine.com/notrocketscience/2010/02/18/how-to-avoid-he-said-she-said-science-journalism/
(via @edyong209 )
When scientific evidence is unwelcome, people try to reason it away [Rather sobering]
http://www.guardian.co.uk/commentisfree/2010/jul/03/confirmation-bias-scientific-evidence
(via @guardianscience)