[Update: It should come as no surprise that W. Haldanei comes not from southern China but some rather extreme photoshopping of a picture of a cute (and very much alive) bunny rabbit. The 'biomarkers' are all found in chocolate. And Rolf Harris is not a paleontologist (though I'm sure he could draw a mean dinosaur).]
China has been the location of many of the more spectacular fossil discoveries of recent years – from feathered dinosaurs to claimed Precambrian embryos – but the latest may well be the most spectacular, and paradigm shattering, yet.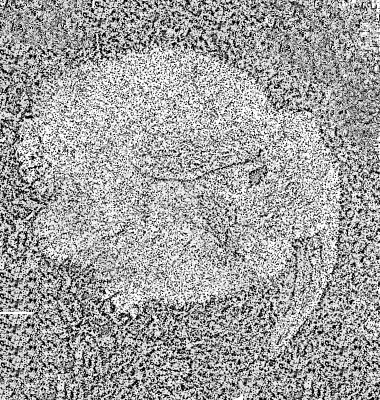 When fossil hunter Rolf Harris came across a weird looking smudge in 650 million-year old shales in the Heifuldya region of southern China, he was convinced that he had discovered something very important. One high resolution laser scan later, and this intuition is confirmed: this is by far the most complex Precambrian fossil ever discovered. Unlike other Ediacaran species, which generally appear to be nothing more than multicellular airbags, this specimen appears to be possess something like a head (on the right), with curious floppy projections on either side; the slightly lighter pit could even be some form of primitive eye. A bulky body is somewhat lacking in internal details, but there are some suggestions of numerous small keratinous projections of unknown function, and stumpy limbs of some sort project from the left side.
Organic biomarker evidence from the shales is also extremely interesting, and suggestive of complex biochemistry at work in the environment that this critter moved about in: phenylethylamine, theobromine, and alpha-D-glucopyranosyl-(1-2)-beta-D-fructofuranoside have all been identified, and are, Harris says, just like the fossil itself, a little "out of their time". "We find these things all over the place in the modern world," he said, "but finding them in abundance so long ago – well, it's really shaken things up from an evolutionary perspective."
Harris has named the new species Wassahpdug Haldanei, with the specific name coined in honour of the man who rather prophetically discussed the evolutionary significance of a find such as this, way back in 1950s.