Other suggestions: [Beverages] [Tough Gear] [Maps]
The arrival of digital photography is one area where technology has really changed the geological fieldwork experience. Of course, photos will never completely replace a good sketch, but when there's only so much time you can spend at an outcrop, the ability to thoroughly document what you're seeing, and review your photos on the fly to ensure that you've captured things properly, is a real boon. Plus, it gives us lots of cool photos, both geonerdy and just plain jealousy-inducing, to share with all and sundry.
So what do geologists look for in a camera? That's a tough question of course, because everyone has slightly different preferences. But from a professional perspective, there are several features that I feel are particularly important:

A nice wide angle lens, for wide shots of landscapes (and outcrops). For me, this is much more important than the magnitude of the zoom, especially since in my experience you need a pretty high zoom factor for it to actually do more than make small things look a little bit larger.


A good macro mode. Essential for all those close-ups of things like ripples and microfossils.


The ability to manually adjust exposure, etc. Partly this is just because I'm a bit of a gadget boy, and like playing around with technology. But partly it's that the most interesting features that you want to photograph aren't playing nice with the ambient lighting, and you need to make some adjustments to ensure that they actually show up.


Good battery life. This is particularly important now that most cameras do not take normal batteries; these rechargeable lithium thingies are all very well until your camera dies when you're stranded miles from the nearest electrical socket.


Toughness. Because I'm not just going to be using it on a walk through a park on a sunny day.
Since these features can be mutually exclusive (particularly in the balance between functionality and toughness), camera selection becomes a matter of finding an acceptable balance between these features. I currently own an
Olympus 5060 Wide Zoom
, which takes some pretty nice pictures (almost all of the photos I've put up on this blog were taken with this camera), and has a fabulous macro mode. But it is a little bulky, and I always fret about it when I take it out in bad weather. Perhaps because of this, I've recently been thinking about the
Olympus 1030 SW
: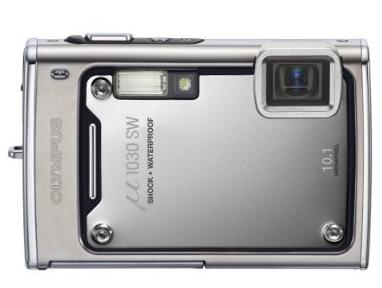 According to the specs, this thing is tough: shockproofed against drops, fully waterproof to 10m depth (although I assume, like watches, that's static pressure), dustproof, and even hardened against low temperatures (down to -10C). I know someone with an earlier model in this range who has used it for underwater photography, so it seems that these are not entirely idle boasts. The appeal is that it's small enough to fit in your jacket pocket, and tough enough not to care. Of course, this is a camera more in the point-and-click vein that I'd usually like, and I've also never been that keen on cameras with no viewfinder.
Everyone should feel free to pitch in with their own views on this one. What features do you look for in a camera? What camera(s) do you actually possess? How do you rate them?