Physical Science covers a variety of disciplinary sins: particle physicists, geologists, and astronomers all fall within its remit. So, in the course of seeking out worthy entries for this months edition of Philosophia Naturalis, I'd find myself quickly moving from discussions of quantum computing to climate modeling, from string theory, to planetary geology, from thermodynamics to extra-solar planetary systems. As you can imagine, organizing such variety is not an easy task – so instead, I've decided to celebrate it. Each box on the image below represents one post (accessed by clicking), and its position on the logarithmic scale roughly corresponds to the length scale of the phenomena it discusses. This months' collection of posts spans than 50 orders of magnitude – and the keen-eyed will note that I've compensated for the fact that this theme is probably one edition too late.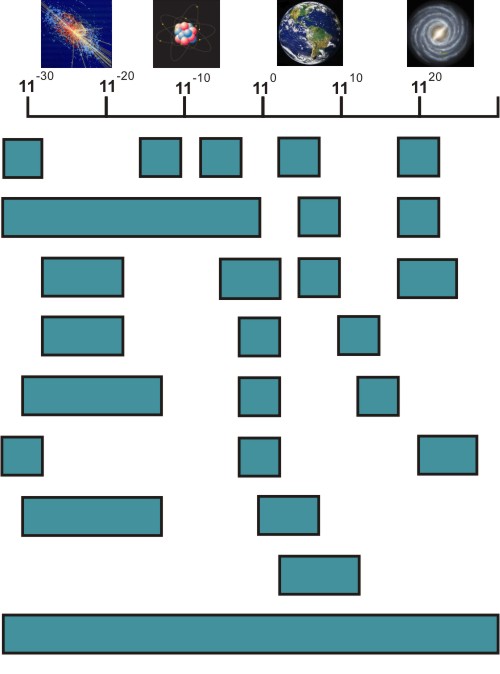 For convenience, below there's the more traditional list of links, arranged from the very small scale to the very large.

In closing, I'd like to remind you that pedantic comments regarding my chosen length scales will be ignored (pretty easy when you're a few hundred miles away from the Internet), and that the next edition of
Philosophia Naturalis
will be hosted by Mollishka at
a geocentric view
. Get reading, writing, and submitting!