Many thanks to Chris and Anne for such a great opportunity to step into the geoblogosphere. Here goes…
One of the few advantages of having being on the Earth for a while (0.00004 Ma in my case) is that I've had time to see new things come along in Science. One of the big themes in Geology in the last 20-30 years has been the realisation of the importance of asteroid impacts in Earth History. A lot of attention has rightly been focused on the role of massive impacts in causing mass extinctions (K-T boundary, Chicxulub)  but since meteorite impacts follow a power-law relationship of size to frequency alongside a few 'earth-shattering' impacts there should be lots of *smaller* ones. Even a 'small' impact will make a trace in the Geological record. So where are they?
How many craters?
The classic trace of an impact is a crater, a circular hole in the ground with a distinctive rim and maybe a central uplift.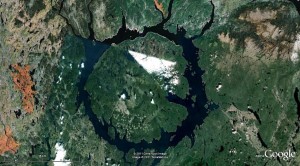 Other things make circular structures of course, such as volcanic activity or salt diapirs, so to unequivocally attribute a structure to an impact, other evidence such as shocked quartz or shatter cones is required.
Many craters are on the Earth's surface, which either means they are recent or have managed to survive erosion, perhaps by being very large. Sedimentary basins are made up of a whole series of fossil surfaces, which have been preserved by a covering of later sediment as the basin fills and/or subsides. So if a basin was hit by a significant impact during its history, we can expect to see it preserved in the pattern of its layers of sediment. Oil companies spend a lot of money collecting seismic reflection data precisely to see patterns in layers of sediment.
A fascinating recent paper "Estimates of yet-to-find impact crater population on Earth" by Professor Stewart of Heriot-Watt University in Scotland discusses this matter in detail. Firstly, he discusses the number of craters currently recognised (178) and the rate at which they are being found (2 a year, which is why the paper says 176 and the database today has 178). Next, he heroically attempts to quantify how many there should be yet to find. Numbers are necessarily imprecise, but he produces three sets of estimates.
The first is based on the number of objects we can see in space, the number of craters we can see on Mars or the Moon and the number of small meteorites we can hear or see burning up in the Earth's atmosphere. This evidence is used to estimate the rate of impacts on Earth per size of meteorite (that power-law again).
The second number is the 'area-timespan' preserved  in Phanerozoic sedimentary basins (e.g. those of interest to oil companies where seismic data is collected; he is "Professor of Petroleum Geoscience", after all). As a simplistic example (the paper is *not* simplistic) a basin of 10km2 that was accumulating sediment for 10Ma has an 'area-timespan' of 100 million km2 a. His estimate for the whole world comes to pleasingly large 9 quadrillion km2 a (9×1015).
Combining those two numbers gives the third: there are over 700 craters larger than 1km diameter yet to be found.
Putting it another way, on average over the last 542 million years, over 700 big asteroids would have hit a part of the earth with a subsiding basin covered by a shallow sea. This is rather cool, I suggest, particularly the idea that many of these craters may already have been surveyed, but the seismic data has yet to be appropriately analysed. It's a nice thought that most examples of what happens when something very big falls out of the sky are to be found deep underground.
Professor Stewart mentions a number of examples of possible impact craters known from seismic data which are not part of the 178 'known' total. This is because evidence from the shape alone is not sufficient to make the 'official' list. The craters are buried under kilometres of rock so it would cost millions to gather rock samples containing the other types of evidence.
Silverpit crater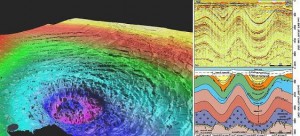 To speculate about the human side of this research (without knowing any of the
people involved), I think the writing of this paper must have been motivated in part by Prof. Stewart's experience with the Silverpit crater. This is a beautiful circular structure, visible only in seismic data, deep under the North Sea. In a 2002 paper Prof. Stewart and a co-author interpreted it as a meteorite impact. Over the next few years a number of papers appeared suggesting alternative interpretations, all of terrestrial origin. The tone of the discussion became rather bad-tempered, by the standards of academic debate. Prof. Stewart would not be human if the experience of being accused (in the journal of world's oldest Geological Society) of suggesting an impact origin "without a shred of scientific evidence" (in doi:10.1144/0016-764904-070) didn't motivate him to find yet more scientific evidence for it.
This paper does just that: of the craters estimated yet to be discovered, based on its area-timespan, three would be in the North Sea. This further strengthens the argument that the Silverpit structure (the only candidate yet identified) is a buried impact crater. Given the difficulty of getting more direct evidence, this may be the best that is possible.
If the debate over Silverpit got emotional, then that makes sense to me. My experience of academia is that nothing is disliked more than people from one discipline 'moving into' another area. My emotional response in the 1990s to astrophysicists arguing for the importance of impacts in Geological history was of scepticism and dislike. A training in Geology is all about the Earth: we spend our time looking at the ground. Things coming in from Space just didn't seem relevant or necessary.
Of course, science at its best works across artificial human distinctions and makes connections between seemingly separate things. It turns out there is plenty of Geological evidence for ancient meteorite impacts and that is what I hope to talk about in future posts.